Want Joy? Start a Family Giving Tradition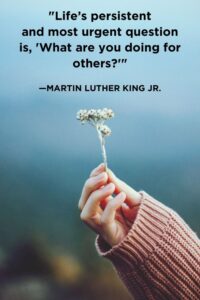 'Tis the season! Is there anyone who doesn't like getting gifts? There is definitely joy in receiving. But, you probably also know that there is joy in giving, too.
There's something about the holidays that makes us eager to give gifts to family and friends, and also to give our time or money to charitable causes that are close to our hearts. We celebrate through giving, but sometimes children are so wrapped up in the excitement of receiving gifts that they miss out on the the satisfaction of giving. How can we include them in family giving traditions and why is it important?
When parents and kids are involved in giving activities together, it reinforces family beliefs and values. It also creates opportunities for families to spend time together and bond, encouraging a closer relationship. Children who grow up with strong giving traditions are more likely to support charitable causes as adults and to feel greater happiness their lives!
So how do we teach our children the importance of giving? Here are some tips to help grow your own giving traditions that include the entire family!
Teach empathy early. Children begin to understand that every person has feelings around the age of 3, but you can lay a foundation of caring for others even earlier. Talk about what others may be thinking or feeling. When children learn to feel empathy for others from an early age, they will grow with a yearning to help them.
Donate funds, time, or helpful items to a charitable organization that your children can connect with personally. Consider your children's particular interests. Is there a cause that is close to your family (a grandparent with Alzheimer's, a child who was born prematurely, kindness in schools, etc.)?
Volunteer together for an organization year round, not just around the holidays.
Help your children raise money for an organization or charity through a lemonade stand or bake sale.
Talk about how YOU give – children follow the example set for them by their parents. Let your children see your own charitable giving in action. Shop together for toys to donate for the holidays, for example. Share with them about financial donations you make.
Recently, we asked a 10-year-old with a charitable heart what inspires her to give. Here's what she told us:
"It's just something I do, like a habit! When I help people, I want to help even more people. I like to know who I am helping, and how my giving is helping them. I also like to make it fun, with friends!"
Does your family have a giving tradition? If not, maybe this is the year to start one. It will bring joy to your children… joy to your family… and joy to our world!