Celebrating and Supporting Mothers
How wonderful the world is because of moms!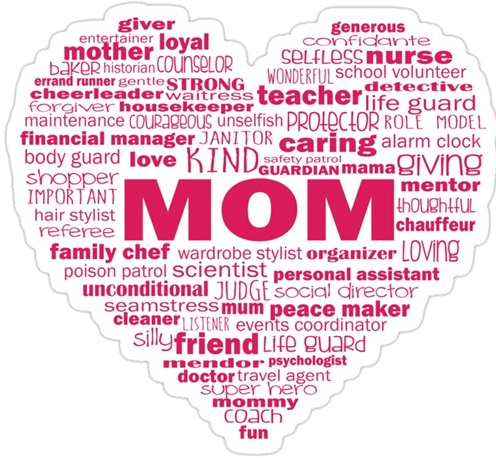 We love Mother's Day because it gives us an opportunity to celebrate the mother figures in our lives who raise us up – literally and figuratively. And we mean all of the moms:  birth, adoptive, foster, step, and "bonus" moms (after all, motherhood requires love, not DNA).
These special women play a vital role in raising children to be strong, capable, confident, and kind. Research shows us that when babies form a secure and loving bond with a nurturing mother, they are more confident and secure as children, perform better in school, and are more likely to form healthy, loving relationships with others.
But let's be honest — it's not always easy for mothers to feel like they're doing a good job. The great juggling act that moms perform on a daily basis can take a toll on physical and mental health. Moms are often the "kin keepers", a role that performs the often-invisible and emotional labor of remembering family birthdays, sending cards, planning and organizing family celebrations and vacations, keeping in touch with out-of-town relatives, and more.
In addition to these tasks, moms still carry job responsibilities and day-to-day responsibilities of home. It's no wonder that today's moms are experiencing unparalleled stress, fatigue, and loneliness, as they tend to put themselves at the bottom of the list of things to take care of.
So what's a mom to do? Here are some ideas:
Share the burden of housekeeping with the family. Parents can assign age-appropriate chores to the children (here are some ideas) and distribute responsibilities equally between adults in the home.
Use digital tools to manage school schedules, birthday reminders, medical appointments, and family obligations. Set reminders in a mobile phone, or use digital assistants like Alexa, Google, and Siri to stay on top of tasks. (Hint: these digital assistants can be set to remind other family members of their responsibilities too!)
Carve out some "Me Time." This may seem impossible, but self-care is critical. Make space in your life for things that you like to do and that nourish your soul.
Ask for help. A grandparent or family member can spend some quality time with the children so Mom can tackle the to-do list — or get some needed rest. Trade off babysitting with a neighbor or friend so both can have some "Me Time!"
Take comfort in sisterhood. Having "mom friends" is essential! Motherhood is undoubtedly rewarding but can be overwhelming and isolating. Connecting with other moms to share the journey with is good for everyone's mental health!
Not only on Mother's Day – but every day – we celebrate and honor all moms and their tireless work to ensure everyone is fed, celebrated, remembered, and loved. We see you, we honor you, and we remind you that you are not alone!
Knowing that the loving presence of a stable mother figure is vital to healthy childhood and upbringing, we at The Children's Healing Institute are dedicated to helping moms in our community feel confident and capable as they tackle whatever life throws at them. By supporting and encouraging moms of all kinds, we are helping to change the course for their children.
There truly is no way to be a perfect mother, but there are millions of ways to be a good one! We're honored to partner with moms every day as they conquer new challenges and build strong, loving families.