Improving the lives of Children. Building Confident and Capable Parents.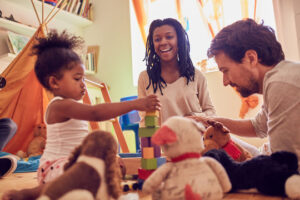 April is National Child Abuse Prevention Month, which shines a light on the importance of families and communities working together to protect children and produce thriving families. At The Children's Healing Institute, we know a lot about helping families thrive. In fact, we've been doing it for decades. We see the struggles that parents face, and we know that sometimes they need help. They trust us to walk alongside them on some of the rockiest roads of their journeys, and it is in that walk that we are invited to guide, teach, and encourage them. Like architects of the heart, we build parents up to be the best versions of themselves as they feel their own strengths, tap into their unique resources, and grow in their capability as loving parents.      
When parents begin to see themselves as we see them, miracles happen. They are inspired to take brave steps toward change, choosing to parent differently than they themselves may have been parented. Their confidence blooms as they set goals and tackle them one by one. They set positive examples for their children and create safe havens for them. They seek out connection with other like-minded parents to make their communities feel safer and more united.
When parents feel this level of empowerment, the course of a child's life shifts from one of uncertainty to one of potential and possibility; a life of love, acceptance and belonging; a life enriched through a caring community; a life filled with hugs and praise, guidance and growth.
Children thrive with this kind of support at home. A 2018 study by researchers from the University of South Carolina and  Children's Trust of South Carolina revealed that children who grew up with an adult who made them feel safe and protected were less likely to experience mental distress or poor health later in life. They demonstrate resilience, better school performance, healthy relationships, and greater investment in their community. They live in a world that provides them opportunity to reach their full potential.
We invite you to imagine this world with us – all children growing up in a warm, loving, and safe environment where all of their needs are recognized, honored, and met by their parents in a connected, contributing, and caring community. This is the world we are building, one family at a time.