Singing through the Holidays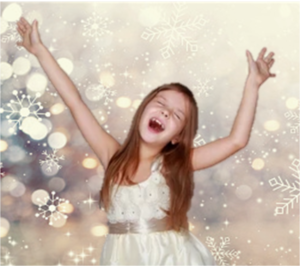 For many of us, music is the heart of the holiday season.
I have often said that I came into this world singing and never stopped. Although I believe that the impulse to sing and create is spiraling through my DNA, I also know that my parents had a lot to do with my love for and connection to music. We had an organ in our home, and I can remember my dad playing "Baby Elephant Walk" and "Maple Leaf Rag" while my sister and I danced until our feet were buzzing.
Music was always on center stage with my family at the holidays, whether we were singing carols around the piano, or singing in the car as we traveled to my grandparents' homes on Christmas Eve.
Music, Science, & Joy
Studies have shown the effectiveness of music therapy for enhancing pre-reading and writing in preschool aged children and the field of music therapy continues to demonstrate music as key to the developing child.
Aside from what research tells us, the true secret of music is simply the joy we take in making it, and the felt connection between two or more people making music together. Kahlil Gibran once said that "the secret in singing is found between the vibration of the singer's voice and the throb in the hearer's heart." When you share in music with your child, whether it is through singing, dancing, or playing instruments, you are meeting him or her in that joyful place that exists between the vibration and the heart.
Creating a Musical Holiday
During this holiday season, I encourage you to find ways to share music with your child. Teach them about your family heritage, culture, and beliefs through the songs that you grew up with. You can use sites or apps like YouTube, Spotify, or Amazon Music to build a playlist of your family's special holiday songs. Listen to them together. Sing them together. Make up silly hand motions that go with the lyrics, and if your child is old enough, let him or her make the motions!
Here are some simple songs to get you started!
A Musical Home
As a music therapist, I have helped people of all ages to communicate, express, move, and heal through the making of music. As a parent, I have seen how early exposure to singing and music-making accelerated my daughter's language development, motor skills, literacy, and self-expression.
My daughter is eleven now, and she loves music! Like me, she came into the world singing and hasn't stopped. Music is a beautiful aspect of our relationship, and I hope it will always be a connecting thread for us. I am excited to revisit our favorite holiday songs this year, and learn new ones together too! I hope you find joy through sharing music with your young ones and singing through the holiday together.
Chelsea Johnson, MS, MT-BC, LMT, is Coordinator of The Children's Healing Institute's TEACUP Preemie Program® and a Board Certified Music Therapist.