Setting Family Intentions for the New Year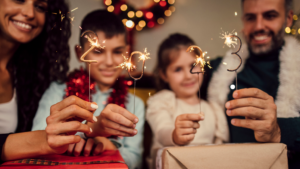 Ring in the New Year together with a tradition to inspire and connect.
As we say goodbye to the old year and hello to the new, it's natural to reflect on the past and think about what we want to accomplish in the future. For many families, the start of a new year is a time for new beginnings and setting goals for the year ahead. This year, we encourage families to think less of "New Year's Resolutions," and more of setting a simple intention for the entire family for the year ahead.
Setting an intention can be a powerful way to focus your attention and energy on what matters most. It helps to give direction and purpose to your actions and can serve as a reminder to stay true to your values and goals.
One fun and meaningful way to set an intention as a family is by choosing a word or theme to inspire and connect each family member throughout the year. This can be a simple yet powerful way to bring everyone together and create a sense of purpose and unity within your family.
Discuss values and goals as a family.
To choose your family's word or theme, you can start by discussing what values and goals are most important to your family. Maybe you want to focus on being more present and mindful, or perhaps you want to prioritize spending quality time together. Whatever it is, make sure it's something that resonates with all members of the family.
Brainstorm and choose a word or theme that represents your values and goals.
Once you've chosen your word or theme, you can find ways to incorporate it into your daily life. For example, if your word is "gratitude," you can make a point to express gratitude to each other every day, or start a gratitude journal where everyone writes down something they're thankful for. If your theme is "adventure," you can plan fun and exciting activities that allow everyone to step outside their comfort zone and try something new.
Incorporate your word or theme into your daily life.
Not only will choosing a word or theme help to inspire and guide your family throughout the year, but it will also help create a sense of connection and unity. It's a great way to remind everyone that you're all in this together and to focus on the things that matter most to your family.
Share your intention with others and make a plan for staying true to it throughout the year.
Sharing your intention with someone else can be a great way to get support and accountability from your friends and loved ones. It may also inspire them to set their own intentions for the new year!
Keep your intention in mind and continue working towards it.
Make a plan together for how you will stay true to your intention throughout the year. This might involve setting specific goals or checkpoints or finding ways to incorporate your intention into your daily routine.
So as you ring in the new year, consider starting a new tradition of choosing a word or theme to inspire and connect your family. It's a simple yet powerful way to create new beginnings and make the most of the year ahead.